Waco's Trusted Leader in Restoration and Clean-Up, Since 1976
24/7 Emergency Services
Water Damage Restoration
in Waco & Temple
What do you do when you have a flood in your home?
Call a company you can trust. Dalworth's water damage
and restoration technicians are certified professionals.
Call Us at 254-232-6030

24/7 Emergency Water & Fire Damage Restoration in Waco & Temple
Over 62,000+
Successful Restoration
Projects Complete
24/7 Emergency Services
Free Estimates
Work Directly with All Insurance Companies
Bonded & Insured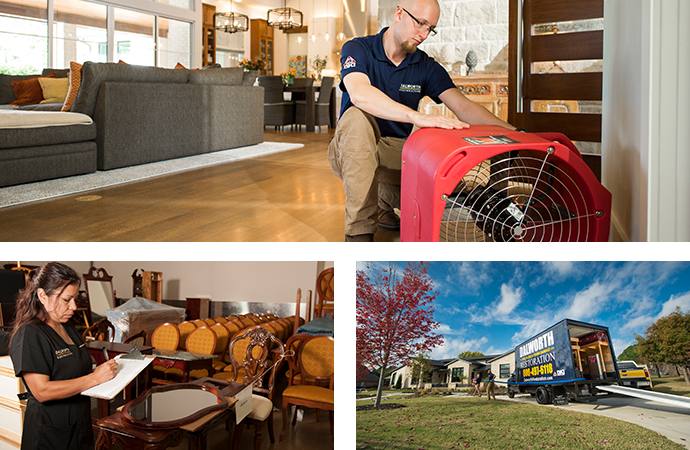 When Disaster Strikes in Waco & Temple, Call Dalworth Restoration ASAP
When fire, flood, or storm damage occurs to your residential or commercial property in Waco & Temple, contact Dalworth Restoration—a restoration company you can trust to get the job done professionally, efficiently, and to your expectations the first time. Your satisfaction is guaranteed.
Our professionally trained technicians are IICRC-certified and dedicate to customer satisfaction, which has made Dalworth a household name since our company was founded in 1976. Customers and insurance companies prefer working with Dalworth Restoration based on our superior reputation and customer satisfaction guarantee.
Dalworth Restoration Provides Award-Winning Services in Waco and Temple
Enhancing our services and providing value to our customers is our top priority at Dalworth Restoration. Our certified technicians have decades of experience & expertise in servicing residential & commercial customers needing water, fire, storm, and smoke restoration services. We also handle mold remediation.
On-Site Estimates & Inspections for Emergency Services
The following services are just a few of the many services Dalworth offers to property owners in the Waco area:
Storm & Flood Damage Restoration
Appliance Failure
Plumbing Leak
Bathroom Overflow
Disaster Cleanup
Construction Services
Contact Dalworth Restoration today to find out more about our fire, water, and storm damage restoration services for residential or commercial property in Waco & Temple. Our crews also serve Hillsboro, Abbott, Groesbeck, and other cities.
Dalworth Group of Companies
Dalworth Restoration is an integral part of the Dalworth Group, providing a variety of high-quality services to commercial and residential property owners since 1976. Founded in the Dallas-Fort Worth area, we also serve customers in Waco, Temple, and their surrounding communities. The Dalworh group of companies have been providing award-winning restoration & cleaning services for more than 40 years.