Waco's Trusted Leader in Restoration and Clean-Up, Since 1976
24/7 Emergency Services
Disaster Restoration Services in Temple & Waco, TX
Natural disasters usually come without any prior warning. Unexpected and extensive damages may put you or your business in misery, but our team of experienced restoration specialists can help you recover from the damages.
Dalworth Restoration has been the leader in emergency disaster restoration services in Dallas-Fort Worth and North Texas for more than 40 years. We have helped countless homeowners and commercial property owners safely recover from damages brought about by disasters. When you have suffered a major loss and need a certified restoration company to deal with water damage, fire damage, smoke damage, flood damage, and mold damage, we are the company to call for customers throughout North Texas.
Contact us online or give us a call at 254-232-6030 for professional commercial disaster restoration services throughout North Texas. Feel free to check out our reviews page to see what others have to say about us!
Emergency Disaster Restoration Services in North Texas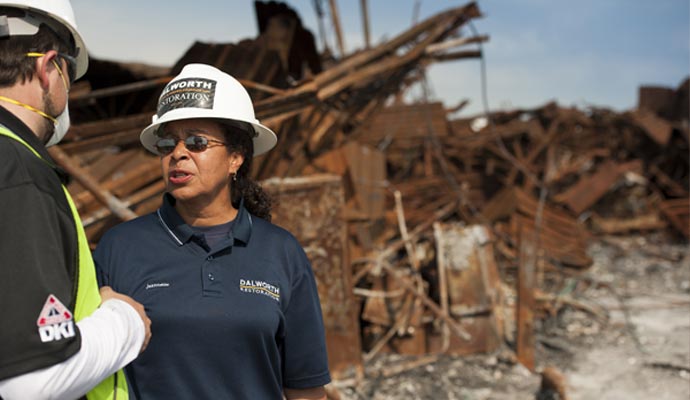 Complete Project Management
Water Damage Restoration
Fire Damage Restoration
Mold Remediation
Construction & Reconstruction
Contents Restoration
Air Sealing
Insulation
Energy Services
Commercial Energy Services & Energy Audits
Board Up & Roof Tarping Service
Temporary Power & HVAC - Heating, Ventilation & AC
Smoke Damage Restoration
Smoke Odor Removal
Air Duct Cleaning & Repair
Dehumidification, Mold & Environmental Remediation
Structural Repair
Remodeling & Building Repair
New Carpet & All Types of Flooring
Document & Information Recovery
Electronics Equipment Recovery & Decontamination
Desiccant Drying
Production Facilities & Equipment
Content Restoration Using State-Of-The-Art Facility
Dalworth Restoration can help you salvage and restore damaged contents from your commercial property. Places like hotels and restaurants have a lot of furniture that may suffer damage during a fire outbreak. Our professionals can restore those damaged belongings to their pre-damaged condition. With the help of our state-of-the-art facility and IICRC certified professionals, you won't have to throw your possessions away. We can help you recover important documents, papers, & information as well as furniture, electronics, and more.
Contact Dalworth Restoration for Disaster Restoration in Dallas-Fort Worth
At Dalworth Restoration, our prime goal is to recover almost all your major losses which occurred due to the disaster. Our team of courageous experts can deal with water damage, fire damage, storm & flood damage, and many more. We have been helping property owners recover from disasters since 1976. For 24/7 immediate help, all you have to do is call us at 254-232-6030 and our restoration team will be on your way.